Real-Time Green on GreenTM weed detection
SmartStriker™ solution allows detecting weeds, specifying them, locating them, treating them, and giving their density. With SmartStriker™, you can control targeted weeding, regardless of the technique used (spraying of phytos, boiling water, guiding an electric arc, a hoe, mechanical pulling, etc.) and to modulate the intervention according to the need. We aim to reduce doses, actions, passages, and thus reduce costs and the impact on the environment.

Green on Brown weed detection
SmartStriker™ also identifies weeds and all kinds of vegetation cover on thatched land, soil and other bare soils. This ability can be used both in mapping and in real time to manage a targeted action. The goal is always to reduce costs and maximize profitability and benefit for the environment.

Nitrogen Fertilization control
Estimating the needs of nitrogen inputs is also part of the functions of our solution. In order to optimize your field work, we allow you to carry out several simultaneous actions, in particular the mapping and/or modulation in real time of your crop's nitrogen needs.
At the heart of the SmartStriker™ solution is the Artificial Intelligence core based on Deep Learning. Its patented technology allows it to learn (weeds, diseases, stress…) with a reduced training set. Learning capacity is enhanced to build the necessary knowledge base.
Compact and resistant snapshot hyperspectral Sensor capable of instantly capturing the spectrum between 300 and 1000 nanometers. An autonomous, patented technology, our Sensor can be mounted on multiple supports. The hyperspectral imagery provides a spectro-morphological signature of extreme precision in the visible and near infrared.
Our Solution : SmartStriker™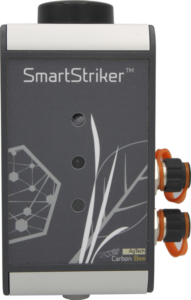 Picture quality of several million pixels combined with a measurement accuracy in RGB, IR and Hyperspectral giving it a high analytical capacity. Each Sensor includes the same artificial intelligence engine and knowledge bases for fast and accurate real-time analysis. Detections of weeds, stress and diseases are geo-referenced by each Sensor.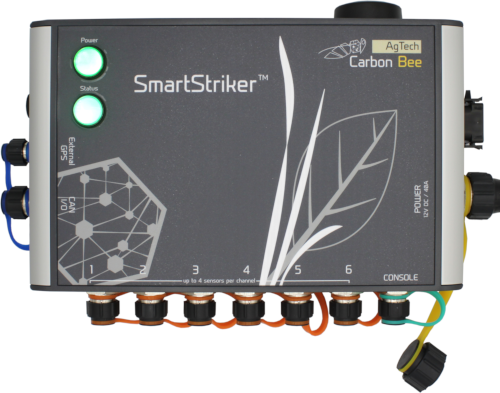 In charge of collecting and gathering the detections of each connected Sensor, it controls in real time the targeted weeding action and creates the final map that can be used offline.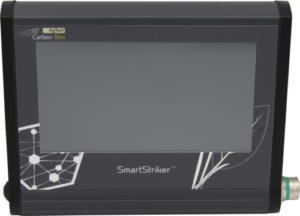 A real control console for the entire SmartStriker™ solution allowing you to choose your crop, weeds by family or species you want to target. The console is installed in the cabin, connected to the Controller. It allows to control the action in real time, the modulation and to obtain the final maps.
Agronomic imaging solutions for plant detection, recognition and health.